MAME MAMu_'s Icons + Extended Version Icons

Latest update: 02/17/2019



These files are completion of a splendid collection MAMU's icons. Here you can find the dats - updated to the latest version - also a package of icons (always created by MAMU) about some software-house of slot machines (such as Ace, Astra, Barcrest, Bellfruit, etc.).

Since version 0.157 also add icons to try to complete the collection of MAMu_.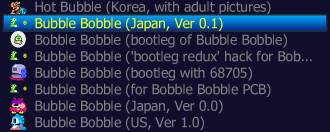 Official Page: http://icons.mameworld.info/
PROCEDURE FOR A SET OF ORIGINAL ICONS UPDATED:
1. Download the file of the original icons from MAMu_ site (updated to version 0.145u4), from here: MAMu_ Site.
2. Extract all files to an empty folder (call it "icons_wip"), do not copy the folders, they are useless. Copy within even the batch file that you download from here: Batch.
3. Go to this folder and run the batch file, delete all unnecessary files and folders. At the end also clears the batch file, and you will have only the files that you need (will be 9,860 icons).
4. Copy all the files contained in Actualized Pack package in the same folder (3,801 icons). 491 files will be overwritten.
5. The collection "Original Actualized" will now complete (rename the folder in "icons_actualized").
PROCEDURE FOR A SET OF ICONS EXTENDED:
6. Perform the above steps 1 to 5.
7. To extend it with our own icons, downloading the package Extended Pack, containing 28,362 new icons and take them out within the usual same folder, overwriting all times that you will need.
6. Now you finally got the collection "Icons Extended" complete, which counts 33,600 icons (0.190 version).
7. Here the 0.190-0.206 update: Upd 0.190-0.206 which will further extend the number of icons, bringing it to 35,275.